A new chapter in making
We were just getting our hands dirty with some of our first digital goods and now that we've been able to better understand certain processes and basic marketplace needs, we are beginning a new chapter for creating tried and true (pun intended) digital goods. The aim is to create more comprehensive and useful resources with attention to needs-based detail and motives that truly want to bring value to others while remaining a viable use of time and energy on our part.
What is a "good deal"?
Over the past two years, we've compiled a formidable amount of digital resources for ourselves, mostly from things we've created from scratch but from several quality purchases here and there as well. We've observed certain trends and patterns in both design and the world as a whole. One of the many things we think is lacking out there: truly "good deals".
Calling a spade a spade
There are a lot of products out there that are trendy to a fault, cheap, not well thought out, and clearly just there so the creator(s) can make a few quick bucks. If you've spent any time on the internet as a designer, you've probably been bombarded by blogs, websites, and ads screaming about a deal like "A $987,123,498,712,567 VALUE FOR ONLY $299!" or "Get my mega texture bundle for FREE if you sign up to my blog", and so on. Well, I've been suckered into a few of those in the past and my excitement has almost always turned into childish regret...you know, the I-ate-too-much-candy-and-it-wasn't-even-that-good kind of regret. So many of these "ultra mega super duper" digital resources are almost always either a waste of hard drive space or a waste of time & money and sometimes both. Here are just a few of the issues that I've found with many of the digital resources offered on some of the more popular digital resource platforms (think Creative Market, GraphicRiver, etc.):
Redundant. Example: a texture "pack" that has just one image but just produced in 10 different colors isn't a texture pack of 10 textures, it's just one texture made to look like more than it is at first glance.
Unoriginal. Many popular texture resources fail to offer anything truly unique or original to the end user and are at best contrived ripoffs of what was once truly pioneering.
Limiting. I'm a firm believer in raw materials. As a designer who's always looking for new possibilities in design, I want raw materials that I can use to make something uniquely mine. While I've found certain preset Photoshop texture files to be useful in a pinch, it's sad to me to see the same texture treatment on type and artwork over and over again on across so many different designer portfolios.
So, what are we doing to create better resources?
Here is the set of loose criteria we use when we consider creating potential digital resources (whether that be fonts, textures, photography, etc.)
Original
This bears repeating in an environment where so many steal and copy the work of others: imitation may start as flattery, but when you're selling it, it's thievery. We value people, we don't steal from them. We don't regurgitate the ideas of others because, of course, that would be nasty.
Specific
We want to create a variety of digital resources but not all for the same purpose. When we see a hole, we don't try to fill all holes, we try to fill that specific hole. Easy peasy.
Raw
Did you ever want to buy a lego set that was already built? Of course not, because all the fun is in the process of the building, not just the final product. The resources we create should be treated as smaller pieces in whatever the user is building, not the building itself.
without further ado,
here's our first release with this new approach
"Driftwood MMXIV Edition": The Basics
The following is the basic info about Driftwood taken from our Creative Market page: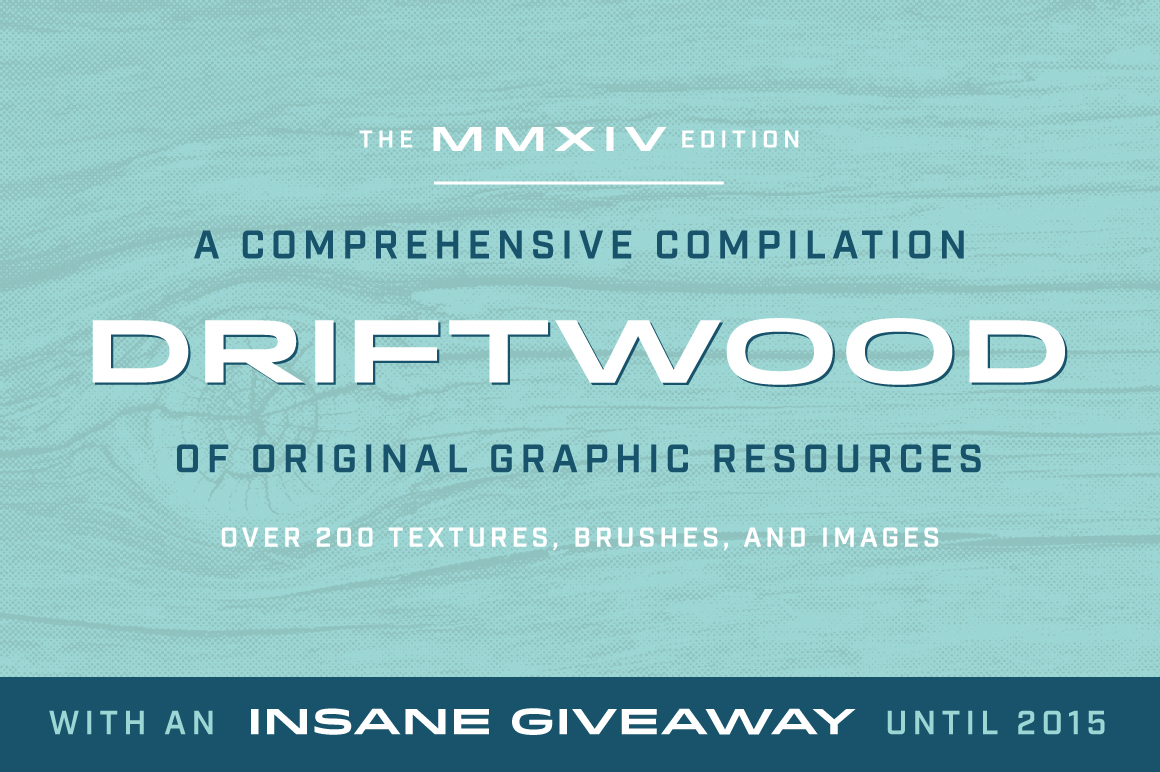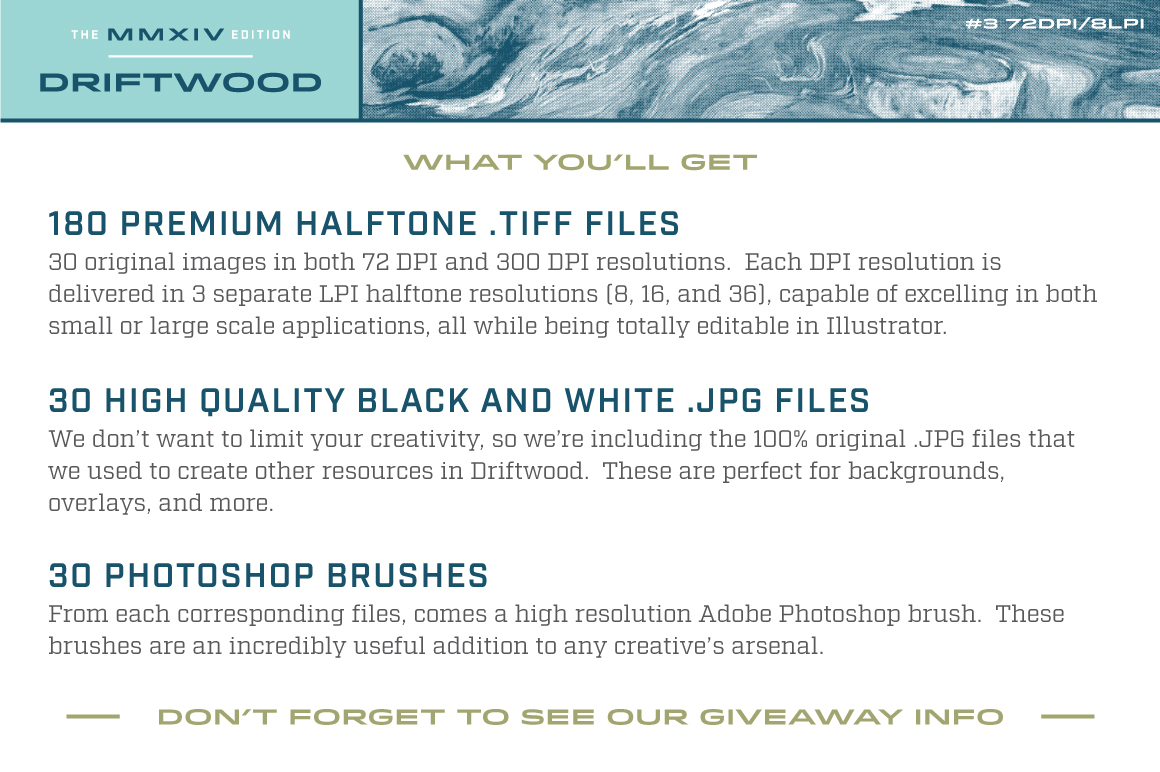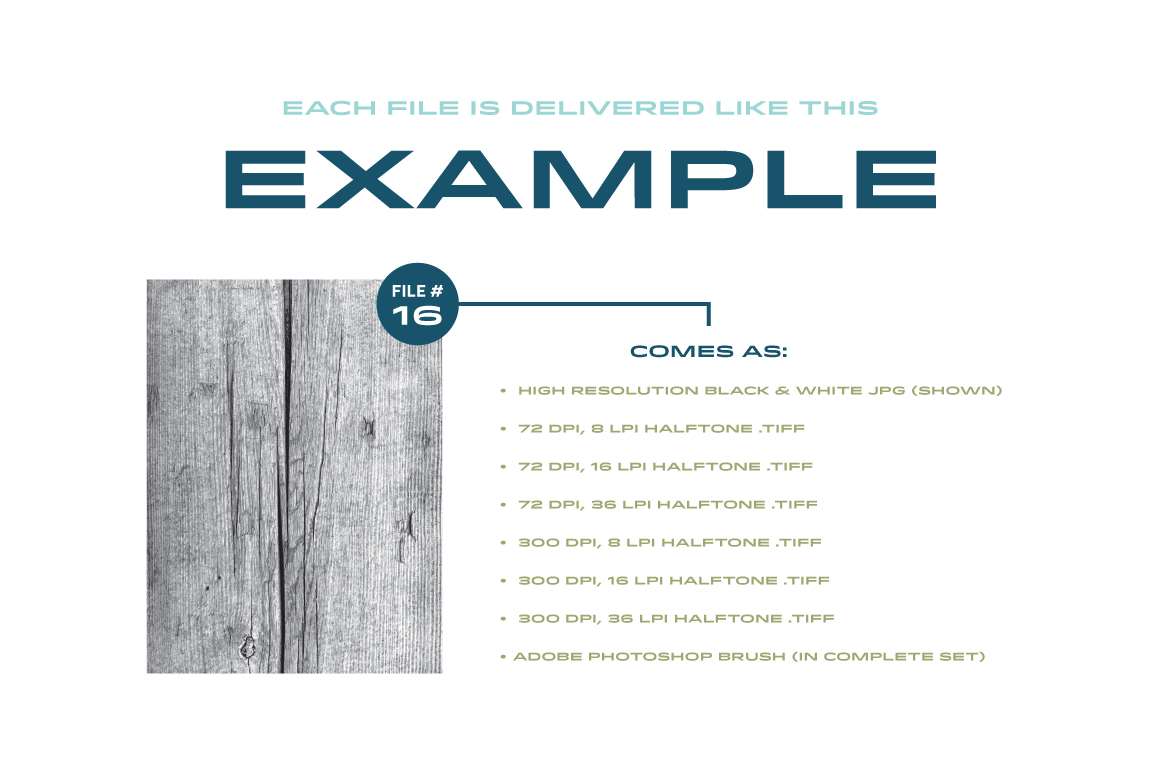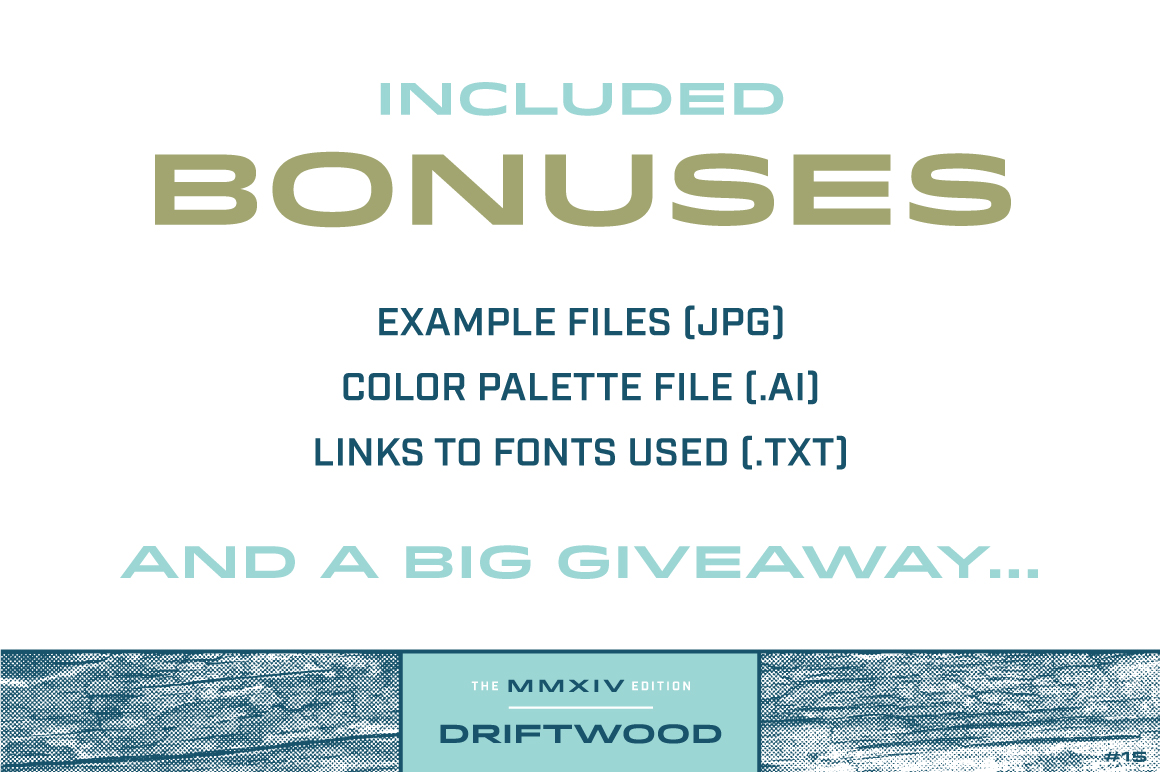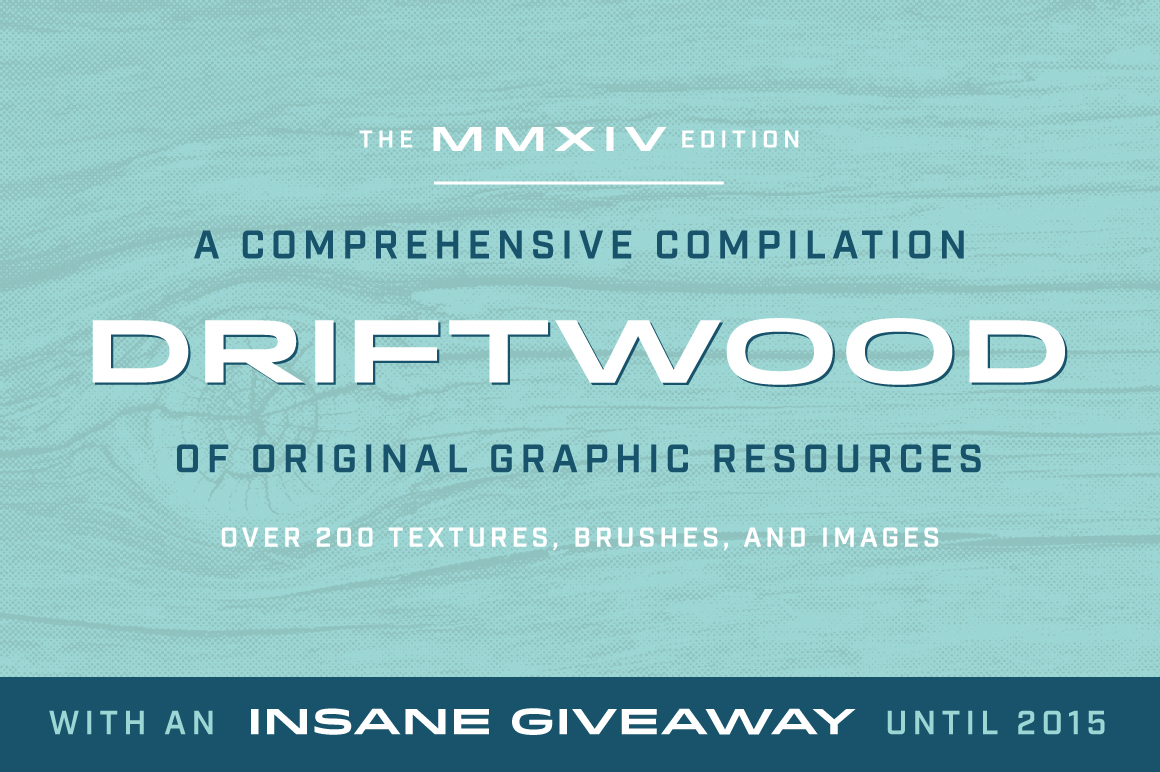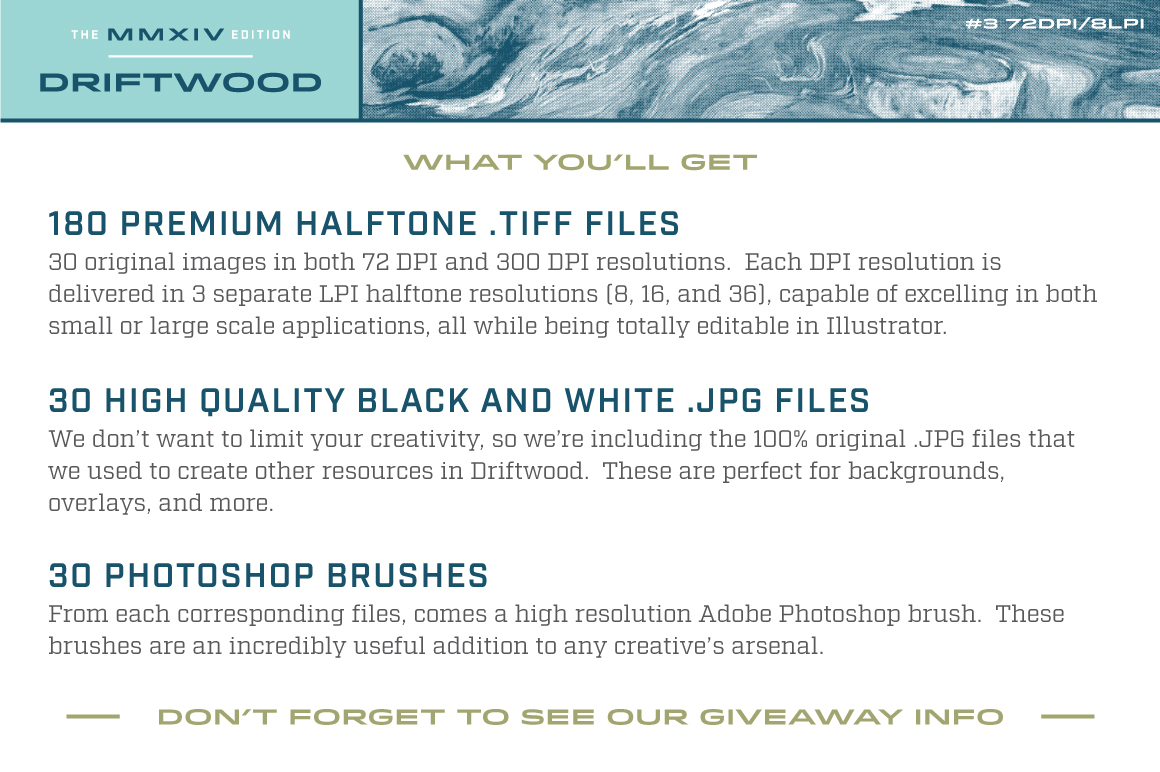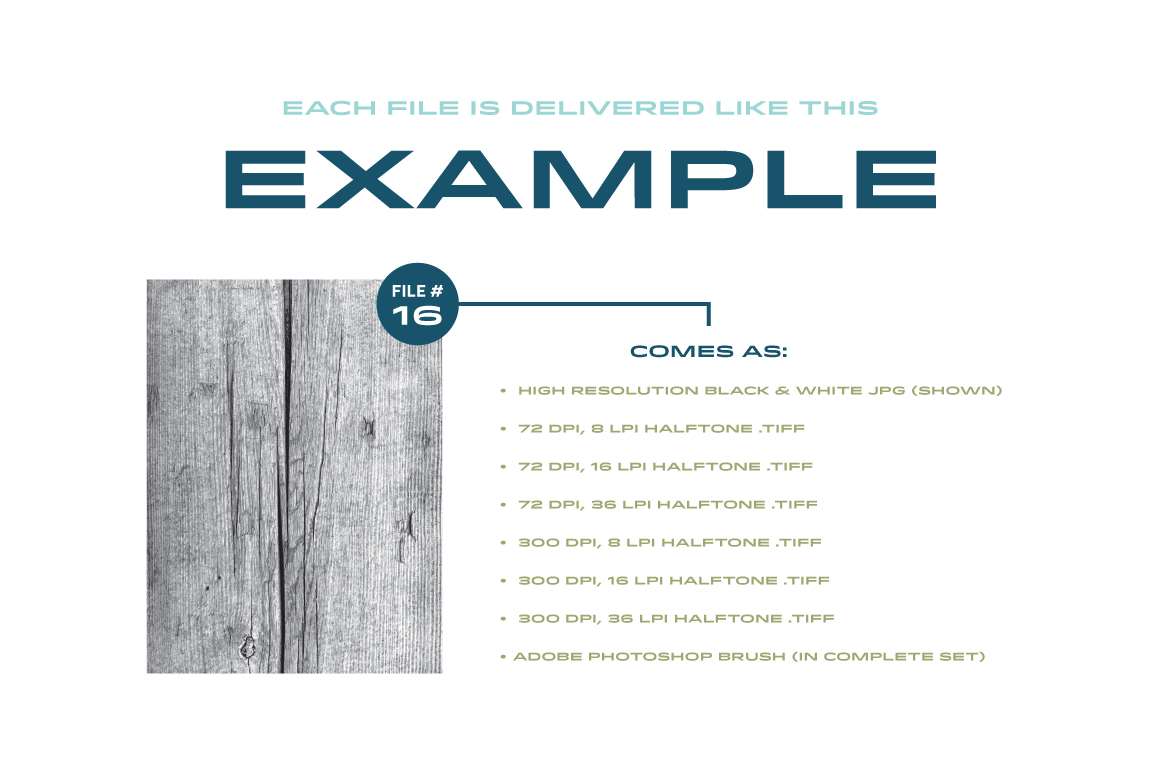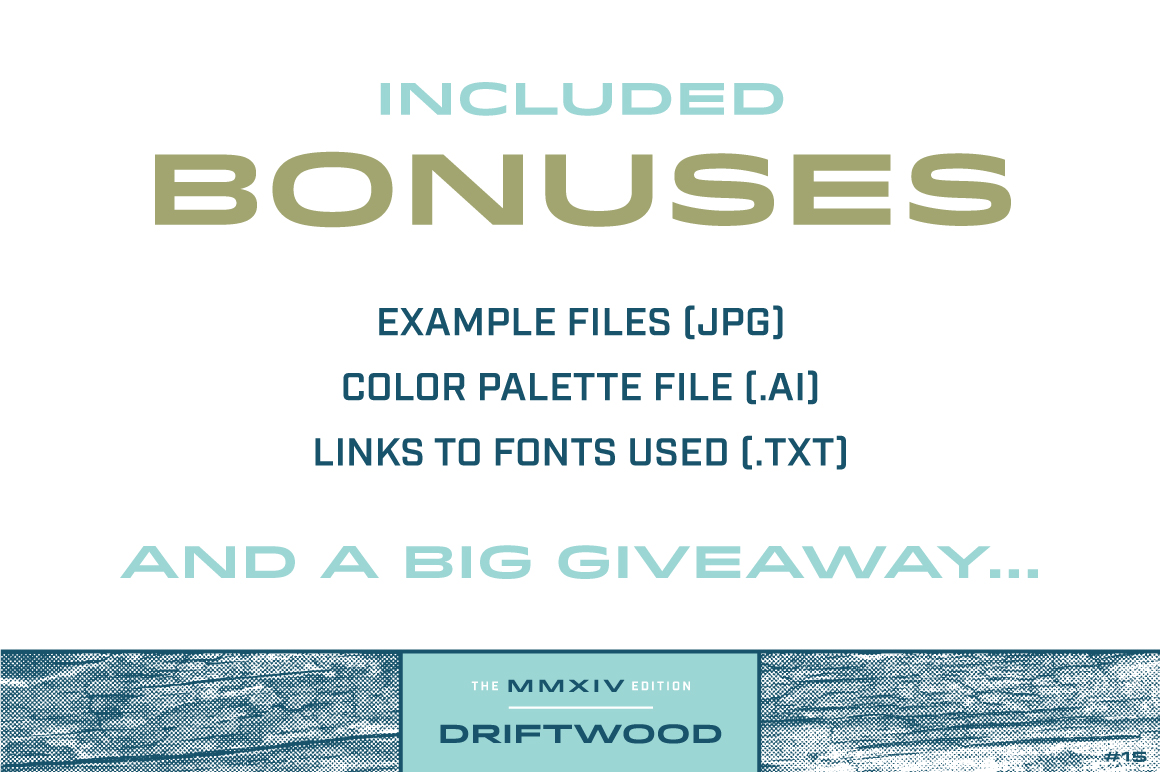 DRIFTWOOD – AN INTRODUCTION
The first in a long forthcoming line of massively thorough and comprehensive digital goods from Tried & True Supply Co, Driftwood (MMXIV Edition) is our flagship juggernaut for textures. We've upped our game to bring not only higher quality but quantity as well. Please see details below.
Driftwood (MMXIV Edition) Contents:
180 PREMIUM HALFTONE .TIFF files
30 original images in both 72 DPI and 300 DPI resolutions. Each DPI resolution is delivered in 3 separate LPI halftone resolutions (8, 16, and 36), capable of excelling in both small or large scale applications, all while being totally editable in Illustrator.
30 HIGH QUALITY BLACK & WHITE JPG FILES
We don't want to limit your creativity, so we're including the 100% original .JPG files that we used to create other resources in Driftwood. These are perfect for backgrounds, overlays, and more.
30 PHOTOSHOP BRUSHES
From each of the corresponding files, comes a high resolution Adobe Photoshop brush. These brushes are an incredibly useful addition to any creative's arsenal.
BONUS CONTENT
– All the example files in high res JPG format
– An Adobe Illustrator file and PDF of the color palette we developed for Driftwood
– Links to the fonts we used to create the designs for Driftwood (.RTF)
Our "insane" giveaway
Until the end of 2014, anyone purchasing Driftwood (MMXIV Edition) will be given all of our previously released products for free.

We will be phasing out all previous texture packs at the end of 2014 and this Driftwood resource is the first of our efforts to create more comprehensive and unique digital goods.
Purchase Driftwood MMXIV Edition on Creative Market here.